Chiropractor, Owner
Jason Abaza D.C.
Dr. Jason Abaza was born and raised in East Hanover, New Jersey. His father was a well-known coach within the East Hanover soccer program, so naturally, under his fathers tutelage, Dr. Jason gravitated towards the sport which inspired one of the many of the quality traits that make up the man he is today - leadership.
Dr. Jason graduated with Honors from Hanover Park High School in 2010 and was awarded a scholarship for leadership which afforded him an opportunity to pursue a doctorate degree from Life University in Marietta, Georgia which is world-renowned for its chiropractic program. Life University is also where he would eventually meet his best friend and fiancée, Dr. Marissa.
In 2017, Dr. Jason graduated with his doctorate in chiropractic and moved back home to East Hanover with a burning desire to serve families in New Jersey with an all-natural, drug-free approach centered on neurologically-based chiropractic care.
"A leader isn't always the one to get the credit or even be given the title of leader. A leader is someone who stands behind the pack and is able to inspire others while sacrificing his/her own wants for the greater good of others."

- Dr. Jason Abaza
chiropractor, Owner
Marissa Abaza D.C.
Dr. Marissa has always had a passion for serving others. Before chiropractic she was a professional salsa dancer. While she loved performing on stage and social dancing, she was particularly drawn to instructing. Not only did she experience tremendous personal healing through dance, she also found she could also help individuals heal and improve their quality of life.
Dr. Marissa was eventually introduced to the philosophy and vitalistic lifestyle of chiropractic, and from that moment on she realized she could help people on a much grander scale. With fervor, she embraced this newfound passion for chiropractic, said farewell to her family and friends in San Diego, and moved across the country to pursue her doctorate at the world's most renowned chiropractic college, Life University in Marietta, Georgia.
Dr. Marissa completed her senior research presentation at Life University on the subject of breastfeeding difficulties and chiropractic. This spawned another passion for her – perinatal care and pediatrics. Soon thereafter she became a member of the International Chiropractic Pediatric Association (ICPA) and received advanced certification in Webster Technique. Dr. Marissa is now currently pursuing the ICPA Certification program to expand her expertise in adjusting techniques, evaluation, and assessment of different stages of development – from pregnancy, birth, and infancy to childhood.
Dr. Marissa was born and raised in San Diego, CA. While she never imagined leaving this gorgeous city permanently, she met Dr. Jason while attending Life University. They were drawn to each other early in the doctorate program, and neither could deny their incredible dynamic, personally and professionally. Months before their graduation, Dr. Jason proposed marriage and Dr. Marissa gladly accepted. The two then embarked on opening their dream practice together near Dr. Jason's hometown of East Hanover.
Associate Chiropractor
Malori Mattimore D.C.
Dr. Malori Mattimore was born and raised in beautiful upstate New York in the small town of Croghan. It was here, at an early age where she first observed the body's incredible natural healing abilities. This discovery was a result of her personal struggle with chronic migraines, TMJ and the confusion that came with conflicting answers from multiple doctors.
As a last resort to avoid oral surgery, Dr. Malori stepped into a chiropractic office where her life was
forever changed.
After she discovered her passion for chiropractic, Dr. Malori attended The State University of New York at Cortland where she earned her bachelor's degree in Biology to lay a vital foundation for graduate school. She then moved down the east coast to attend the world's premier chiropractic college, Sherman College of Chiropractic in Spartanburg, SC. Here she graduated with honors. Dr. Malori is advanced certified in Torque Release Technique for full spine care, an active member of the International Chiropractic Pediatric Association (ICPA) and is Webster Technique certified for safe and effective care throughout pregnancy.
She is excited to serve the community and help build a place where people can come to
heal naturally and get back to doing what they love!
Hi! I'm Jill Burke, Adjust Chiropractic Health Center's office manager. You can usually find me behind the front desk greeting all your beautiful faces when you walk in! I was born and raised in Allentown, Pennsylvania and moved to New Jersey in 2018 after meeting my fiancé. I have been in the customer service industry for over 10 years; making people happy and helping others is one of my passions.
My family believes that hard work and helping others is the most fulfilling way of living, and I like to think that's where my work ethic and positive attitude stems from. When I found Adjust, I knew it was a perfect match; it felt like family. What we do here is exactly what I love to do, help people. When I'm not at Adjust, you can find me at my family's cabin on the Lehigh River with my fiancé Taylor, out on the trails with our dog Ladybird, or taking a nap outside in the sun...because who doesn't love a sun nap in a hammock with your dog! See you soon, at the front desk!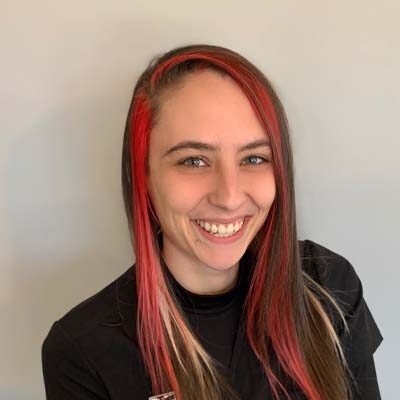 Chiropractic Assistant
Mandy
Mandy was born and raised in a small lake community in Northern NJ, and has an innate interest in understanding the brain and body connection which led her to study psychology and biology at Mount Saint Mary College. She discovered chiropractic through working at Adjust.
After years of struggling with multiple chronic health conditions she experienced natural healing through gentle and specific chiropractic adjustments. This experience ignited her passion for holistic healthcare. In the future she envisions becoming a chiropractor and owning her own office.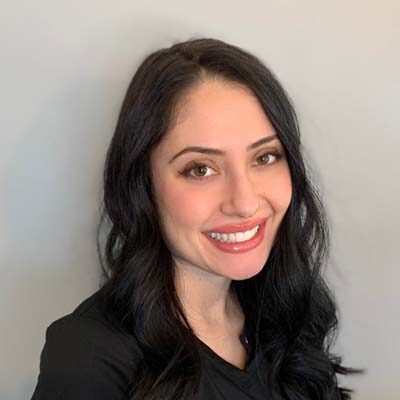 Chiropractic Assistant
Anna
I am an alumna of Montclair State University where I graduated with honors with a degree in Family Science and Human Development. After graduation I went on to explore my passion to work with children and families further, as I completed an internship within a child advocacy center and volunteered in the pediatrics unit at St. Barnabas Medical Center, spending most of my time in the PICU or with children who were experiencing long-term health issues.
I was drawn to chiropractic because of my innate desire to help others and I also enjoy being in the holistic healthcare space. I absolutely love providing education and believe that each person I encounter is to be treated with the highest level of care, respect, and kindness. In my free time I enjoy baking, photography, and spending time with my husband and our sassy french bulldog.
OFFICE HOURS
---
Monday
10:00am - 1:00pm
3:00pm - 6:00pm
---
Tuesday
3:00pm - 6:00pm
---
Wednesday
10:00am - 1:00pm
3:00pm - 6:00pm
---
Thursday
10:00am - 1:00pm
3:00pm - 6:00pm
---
Friday
Closed
---
Saturday & Sunday
Closed